I took this from a Tweet by Jonny Cooper (with his permission): he seems to be on a run of good birds at the moment. To set the scene a bit, Redwing recaptures are not common in Wiltshire. For example, in 2019 there were none, in each of 2020 and 2021 there was a single Redwing recapture in each year. In total, there have been only 13 recaptures of ringed Redwing in Wiltshire since records began. So to Jonny's Tweet:
What this? A Finnish ringed Redwing retrapped just outside Sutton Benger, Wiltshire. How exciting, I can't wait to find out where it was ringed originally!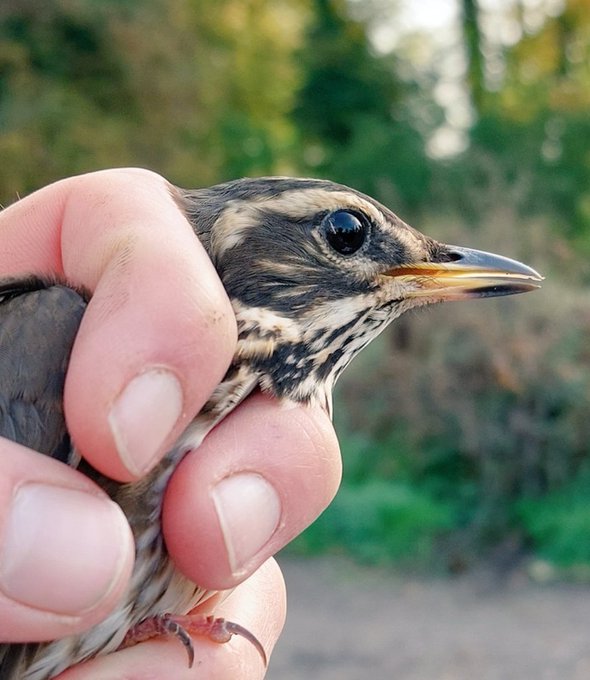 Editor's notes: That is the first foreign retrap of a Redwing for the West Wilts RG since 1996! That bird was ringed just across the North Sea, in Belgium. It pre-dated the electronic records, so there is no note of who caught it. The site was Hurst Farms, between Steeple Ashton and Marston in mid-Wiltshire.
There had only been 3 others: 2 were retrapped within one month of ringing. These were RLo5915, ringed and retrapped in Nightingale Wood, near South Marston (just east of what was the Honda factory complex), ringed on the 28th November 2011 and recaptured just 4 days later on the 2nd December 2011. The other was RL05960 ringed in Coleshill on the 4th February 2012 and recaptured there a week later on the 11th February 2012.
A little more interestingly, the third, RL61400 was ringed in Ravensroost Wood on the 28th December 2016 and recaptured in the same net, 13 months after being ringed, on the 6th January 2018. Site fidelity is something you find with breeding birds but seems somewhat less of a thing with winter visitors.
On the converse, one of the Redwing ringed by us, as an adult, at Lower Moor Farm, on 28th October 2015, RL61176, was shot by some sick individual in Barsac, part of the Gironde in France, on the 5th December 2017. What sort of person does that? It is not as though there is any meat on it worth eating.